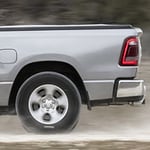 One of the most important features that you should consider when purchasing a new truck is safety. Whether you need to haul your family or get to work, there are many safety features on the Ram 1500 that will keep everyone safe and sound.
1) The available backup camera system makes it easy for you to see what's behind your vehicle while driving in reverse. This can be especially helpful if you have kids who like to run around and play near the driveway.
2) Air bags: These protect both drivers and passengers from injury in collisions by deploying quickly during an accident. They also help prevent injuries by keeping occupants inside the vehicle instead of ejecting them through windows or doors.
3) Side curtain air bags: These are similar to the air bags in the ceiling, but they can protect both front and rear passengers as well as roll up windows. This curtain of air might be just enough to keep you from hitting your head on something hard, like a window or fence.